Congratulations to Debra Holloway for winning the Ties of Smoke Blog Tour Amazon Gift Card.
Click the link and enjoy an excerpt from Ties of Smoke. The tour is still up.
Enjoy!

December 5: Books,Dreams,Life
December 6: Independent Authors
December 7: Tina Donahue Books – Heat with Heart
December 8: The Avid Reader
December 9: Edgar's Books
December 9: Long and Short Reviews
December 12: Beyond Romance
December 13: The Silver Dagger Scriptorium
December 14: Rogue's Angels
December 15: 3 Partners in shopping, Nana, Mommy, and Sissy, Too!
December 16: Mixed Book Bag
December 16: Two Ends of the Pen

Lady Lavinia Bramley is Master of a Djinni.

Lavinia runs away from her husband to make a life with the djinni Yasir, but it's not what she thought, not pearls and flying carpets and wishes come true . . .

Her desperate efforts to find happiness with Yasir are foiled by her husband's reappearance, murder attempts by the jealous magician who cursed Yasir to the urn, and Yasir's desire for revenge.

Lavinia finds love, and loyalty, are as ephemeral as ties of smoke.

Excerpt from Ties of Smoke

CHAPTER 2

Her legs as unsteady as her thoughts, Lavinia sank to the floor in the urn's hallway, the lead bullet hard against her fingers through the bundle. She had put some distance between the vile object and Yasir, surely far enough for him to be free of its curse. But with all that had happened since this morning— She closed her eyes, her body still, her mind quiet for a moment.

She had left her home, her husband, everything she knew, to be here. She stifled a sob and raised her head. The high ceilings of the hall dwarfed her, the tall sweep of space terrifying. At every doorway, every direction she dared turn, shadows flickered and darkened as if someone lurked just out of sight. Her insides churned in panic.

The hard tile floor seeped cold through her gown. Her hand curled like a claw around the silk enfolding the instrument and bloody bullet. She was inside the urn. Inside a djinni's urn. At this very moment in her room at Bramley House, the urn sat on her dressing table amongst her bottles of perfumes, her jars of cream and powder. She had held it in her hands.

Now she was inside it. When she attempted to assimilate the two images, she felt her brain might burst. She squeezed her eyes shut, unable to put together a coherent picture.

When she returned to Yasir, would he still be alive? She exhaled, long and slow. She wouldn't allow herself those thoughts. When the bullet was far away, confined in the jade vessel, Yasir would regain strength. Then he could heal himself properly. Couldn't he? She saw again the inflamed flesh surrounding his wound, felt the squish of the instrument pressing through soft tissue. She switched the bundle to her other hand as she leaned against the marble wall—smooth and cool against her back.

The rigid stone lost its chill and rippled ever so slightly as though it were breathing. In a great billow the wall thrust outward, soft as a sponge, and she sank into its quivering warmth. She jerked away and stared at the shimmering surface, yellow blending into the gold of apricots, thousands of speckles reflecting the light like an amorphous sea creature. That feeling of eyes upon her. Someone, or something—she squinted at the wall—was watching her.

End of Ties of Smoke excerpt.
His Master's Bride
A Novel of the Djinn Chronicles

A troubled djinni seduces his master's young wife, forcing her to make a fateful choice.

A world of mysterious powers and tumultuous intrigues comes to life in Regency England as a djinni, burdened with a dark secret, is thrown into a love triangle fraught with subterfuge.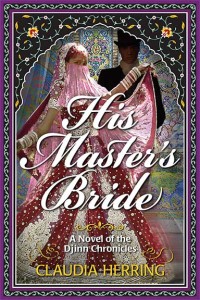 The djinni Yasir, imprisoned in an urn by a jealous magician, searches the centuries for his lost love. He finds Lavinia reborn in 1811 England, only to discover she's his new master's bride.

Desperate to have her, Yasir spell-casts Lavinia's husband to forget he is master and give her the urn. When she opens the ancient vessel, Yasir emerges, terrifying in his magnificence yet somehow familiar, but she fails to recognize him. She distrusts this djinni even though his very presence enchants her.

Yasir's spell is fading. Lavinia's husband has changed. Now he's violent as he struggles with returning memories of when he possessed the urn. Lavinia strives to keep the two from encountering one another, while torn between fidelity for her husband and her increasing attraction to the djinni.

Impatient to win Lavinia's confidence, Yasir must convince her of her true identity so they can reclaim their life together. He dare not reveal a deeper reason: Only with Lavinia can he regain his freedom and exact revenge on the magician who confined him to the urn—

If she does not go mad from the spell to awaken her memories.
If her husband does not escape the djinni's magic and discover her secret.
If the magician does not find them first.

• • •
His Master's Bride: Full Review

Claudia Herring's debut novel reminds us that reading should carry us away to adventure in interesting times and places. His Master's Bride is a fresh look at a magical world readers will long to revisit again and again.

Yasir is a djinni cursed to abandon the love of his life, live in an urn and become enslaved to any who open it. Lord Peter Bramley, on an expedition to Egypt in 1811, acquires the urn from a peddler and discovers the djinni but soon learns that wishes can backfire. While outside his urn, Yasir sees a portrait of Bramley's new bride, Lavinia, and believes it is Thalia, his own lost love returned to him. He casts a spell, causing Bramley to forget being master and give the urn to his bride at home in England.

Yasir's love is so deep that he soon enchants and seduces Lavinia. Meanwhile, her husband has returned a different man, cold and violent. She is falling in love with Yasir, but unless he can free himself from the curse that chains him to the urn, they have no future. When he calls on a djinni friend to help, Yasir's magic leaves a trail, which leads his old enemy, Rakhshan, to Bramley House.

Deftly, and with a confidence borne of deep knowledge of her story world, Herring weaves an enchanting tale of forbidden love and ancient magic. The story moves seamlessly from Yasir's present struggle to reveal his captivity in Rakhshan's dungeon, with vividly drawn characters, excellent pacing and surprises at every turn. Readers will close this book wanting more.

Chris Rogers, Internationally Published Author
Speaker, Instructor

• • •

• • •
The Bargain: A Short Story
by Claudia Herring

An enigmatic messenger with a hidden agenda, and a devoted Marquis who has a pact with his Lord, use an innocent young man as a pawn. The Bargain was selected to be in Tides of Impossibility, an anthology of 18 fantasy short stories by different authors in The Houston Writer's Guild.

                    • • •
Excerpt from The Bargain
The angel knelt, red wings glowing in heavenly light, splendid as a bird of paradise.

"The Annunciation by Petrus Christus." The Marquis gazed lovingly on the top painting of the diptych. "You see all around, the angels." He indicated his opulent gallery and Andras saw that each painting featured at least one if not a host of angels. "Angels speak to men." His Excellency's dark eyes glistened. "Many think this stopped in ancient times, but the truth is, as you know. . ." The Marquis moved close to Andras, his breath hot and sour. "They still do. Prayer is the thing. Pray enough, listen intently and the celestials answer." He tapped his hand, jeweled rings glowing, against his embroidered sleeve and stared at Andras,

Andras knew he should say something. He took a slow breath as a shiver rattled up his spine, imagining a momentary frown clouding the angels' benevolent expressions. He envisioned the words of men—prayers, annoying, pleading and begging—rising up to heaven like dense swarms of gnats. "God's messengers." Andras kept his voice low.

"Praise the Lord." The Marquis shouted and raised his arms in supplication, lifting his face to the high clerestory window where the sunlight streamed down upon him, his eyes glinting like coals in a grate.

Andras startled, but formed his expression to one of acceptance

"The Lord giveth and the Lord taketh away," the Marquis roared, whirled around and stopped in front of Andras. "You are here because of my vision."

Andras stepped backwards, fearing the Marquis might seize him in his agitation. The man shouldn't touch him when he was unprepared. "In truth, I am the messenger and the servant." Andras had grown weary of his tasks. Years before he had fallen from the grace of his master, and he winced at the memory of flaming swords and other cruel punishments to keep him in control. But his kind were doomed to servitude.

• • •
Short List: Books I Love
• The Historian by Elizabeth Kostova

• Outlander Series by Diana Gabaldon

• The Things They Carried by Tim O'Brien (yes it's an "e" in O'Brien)

• If Noboby Speaks of Remarkable Things by Jon McGregor

• Caravan by Dorothy Gilman.
I read this a long time ago and the characters and story made a big impression on me. When I wanted to read it again I couldn't remember the name or author. But I recalled that finger puppets played a key role. I googled the phrase and there it was. I've never been so happy to find a long lost book, and upon rereading it was thrilled to find I liked it even more than I remembered.

• Those Across the River by Christopher Buehlman

• Game of Thrones by George R. R. Martin